HRC55 4 Flutes Deburring Tool For Drill
| Item NO. | Diameter D | Shank Diameter | Overall Length | Point Angle | Flutes |
| --- | --- | --- | --- | --- | --- |
| MSKEM2FF001 | 3 | 3 | 50 | 90 | 4 |
| MSKEM2FF002 | 4 | 4 | 50 | 90 | 4 |
| MSKEM2FF003 | 5 | 5 | 50 | 90 | 4 |
| MSKEM2FF004 | 6 | 6 | 50 | 90 | 4 |
| MSKEM2FF005 | 8 | 8 | 60 | 90 | 4 |
| MSKEM2FF006 | 10 | 10 | 75 | 90 | 4 |
| MSKEM2FF007 | 12 | 12 | 75 | 90 | 4 |
| MSKEM2FF008 | 3 | 3 | 50 | 90 | 4 |
| MSKEM2FF009 | 4 | 4 | 50 | 90 | 4 |
| MSKEM2FF010 | 5 | 5 | 50 | 90 | 4 |
| MSKEM2FF011 | 6 | 6 | 50 | 90 | 4 |
| MSKEM2FF012 | 8 | 8 | 60 | 90 | 4 |
| MSKEM2FF013 | 10 | 10 | 75 | 90 | 4 |
| MSKEM2FF014 | 12 | 12 | 75 | 90 | 4 |
| Workpiece Material | DIN338 M2 Tin Coating Twist Drill | | | | | |
| --- | --- | --- | --- | --- | --- | --- |
| Carbon Steel | Alloy Steel | Cast Iron | Aluminium Alloy | Copper Alloy | Stainless Steel | Hardened Steel |
| Suitable | Suitable | Suitable | | | | Suitable |
Raw Material: Use ZK30UF with 10% Co content and 0.6um grain size.
Coating: TiSiN, with very high surface hardness and good wear resistance, AlTiN, AlTiSiN is also available .
Products Design: Spotting drills can perform both centering and chamfering. Precise position the holes and chamfer are accomplished at one time to improve the processing efficiency
Applicable machine tools: CNC machining center, engraving machine, high-speed machine, etc
Materials used: die steel, tool steel, modulated steel, carbon steel, cast steel, heat treated quenched steel, etc
It is widely used in aerospace, mold manufacturing, metallurgical equipment, metal processing and so on.
Advantages:1.We have strict inspection and reliable quality. The blade is coated, which effectively reduces the number of tool changes. 2.It has higher strength and is not easy to wear. It belongs to high hardness and high-speed cutting milling cutter.3Full grinding edge, sharp cutting, not easy to wear, increasing the service life of milling cutter.4.Strictly select the alloy material of rod body, improve the service life .5.With large core diameter, greatly enhance the tool rigidity and seismic force, and reduce tool breakage.6.The smooth handle and chamfering design are convenient for installation and stable work efficiency.
QUALITY ASSURANCE ( ISO 9001 )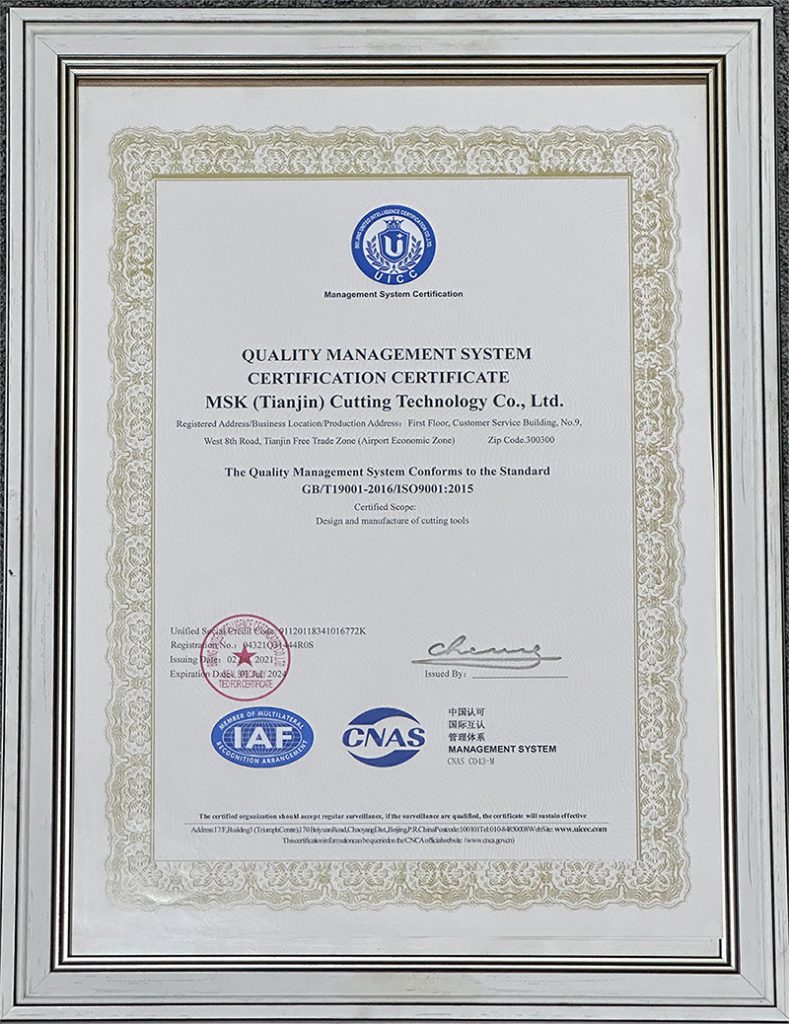 ASK US TO GET 10%OFF
NOW !