DIN345 HSSCO Morse Taper Shank Drill Bits
1.Refuse To Break The Knife
2.Precision Moved High-Quality
3.Tungsten Steel
4.Extremely Sharp
5.Powerful
6.Say Goodbye To Sticky Knife
| Brand | MSK |
| --- | --- |
| Product Name | Taper Shank Drill |
| Material | HSS M35 |
| Coating | / |
| Package | Plastic Box |
| Use | Metal Drill |
| Dia(mm) | Overall Length(mm) | Flute Length(mm) | MT | Dia(mm) | Overall Length(mm) | Flute Length(mm) | MT |
| --- | --- | --- | --- | --- | --- | --- | --- |
| 6 | 138 | 57 | 1 | 34.1-34.9 | 339 | 190 | 4 |
| 6.,6.5 | 144 | 63 | 1 | 35 | 339 | 190 | 4 |
| 6.8,7.0,7.5 | 150 | 69 | 1 | 35.1-35.5 | 339 | 190 | 4 |
| 7.8,8.0 | 156 | 75 | 1 | 35.6-36 | 344 | 195 | 4 |
| 8.5 | 156 | 75 | 1 | 36.1-36.5 | 344 | 195 | 4 |
| 8.8 | 162 | 81 | 1 | 36.6-36.9 | 344 | 195 | 4 |
| 9 | 162 | 81 | 1 | 37-37.5 | 344 | 195 | 4 |
| 9.5 | 162 | 81 | 1 | 37.6-38.9 | 349 | 200 | 4 |
| 9.8 | 168 | 87 | 1 | 39-40 | 349 | 200 | 4 |
| 10 | 168 | 87 | 1 | 40.51-41 | 354 | 205 | 4 |
| 10.5 | 168 | 87 | 1 | 41.1-41.9 | 354 | 205 | 4 |
| 10.8-11.8 | 175 | 94 | 1 | 42-42.5 | 354 | 205 | 4 |
| 11.9-12.9 | 182 | 101 | 1 | 42.6-43.5 | 359 | 210 | 4 |
| 13.0-13.2 | 182 | 101 | 1 | 43.6-44.9 | 359 | 210 | 4 |
| 13.3-13.9 | 189 | 108 | 1 | 45 | 359 | 210 | 4 |
| 14 | 189 | 108 | 1 | 45.1-46.5 | 364 | 215 | 4 |
| 14.1-14.9 | 212 | 114 | 2 | 46.6-47.5 | 364 | 215 | 4 |
| 15 | 212 | 114 | 2 | 47.6-49.5 | 369 | 220 | 4 |
| 15.1-15.5 | 218 | 120 | 2 | 49.6-50 | 369 | 220 | 4 |
| 15.6-16 | 218 | 120 | 2 | 50.1-50.5 | 374 | 225 | 4 |
| 16.1-16.9 | 223 | 125 | 2 | 51-53 | 412 | 225 | 5 |
| 17 | 223 | 125 | 2 | 54-55 | 417 | 230 | 5 |
| 17.1-17.9 | 228 | 130 | 2 | 56-57 | 422 | 235 | 5 |
| 18 | 228 | 130 | 2 | 58-60 | 422 | 235 | 5 |
| 18.1-18.9 | 233 | 135 | 2 | 61-63 | 427 | 240 | 5 |
| 19 | 233 | 135 | 2 | 64-65 | 432 | 245 | 5 |
| 19.1-19.9 | 238 | 140 | 2 | 66-67 | 432 | 245 | 5 |
| 20 | 238 | 140 | 2 | 68-70 | 437 | 250 | 5 |
| 20.1-20.9 | 243 | 145 | 2 | 72-75 | 442 | 255 | 5 |
| 21 | 243 | 145 | 2 | 76 | 447 | 260 | 6 |
| 21.1-21.9 | 248 | 150 | 2 | 77 | 514 | 260 | 6 |
| 22-22.4 | 248 | 150 | 2 | 78 | 514 | 260 | 6 |
| 22.5-22.9 | 253 | 155 | 2 | 79 | 514 | 260 | 6 |
| 23 | 253 | 155 | 2 | 80 | 514 | 260 | 6 |
| 23.1-23.6 | 276 | 155 | 3 | 81 | 519 | 265 | 6 |
| 23.7-24.9 | 281 | 160 | 3 | 82 | 519 | 265 | 6 |
| 25 | 281 | 160 | 3 | 83 | 519 | 265 | 6 |
| 25.1-25.9 | 286 | 165 | 3 | 84 | 519 | 265 | 6 |
| 26-26.5 | 286 | 165 | 3 | 85 | 519 | 265 | 6 |
| 26.6-26.9 | 291 | 170 | 3 | 86 | 524 | 270 | 6 |
| 27-27.9 | 291 | 170 | 3 | 87 | 524 | 270 | 6 |
| 28 | 291 | 170 | 3 | 88 | 524 | 270 | 6 |
| 28.1-28.9 | 296 | 175 | 3 | 89 | 524 | 270 | 6 |
| 29-29.9 | 296 | 175 | 3 | 90 | 524 | 270 | 6 |
| 30 | 296 | 175 | 3 | 91 | 529 | 275 | 6 |
| 30.1-30.9 | 301 | 180 | 3 | 92 | 529 | 275 | 6 |
| 31-31.2 | 301 | 180 | 3 | 93 | 529 | 275 | 6 |
| 31.3-31.5 | 301 | 180 | 3 | 94 | 529 | 275 | 6 |
| 31.6-31.7 | 306 | 185 | 3 | 95 | 529 | 275 | 6 |
| 31.8 | 334 | 185 | 4 | 96 | 534 | 280 | 6 |
| 31.9-32 | 334 | 185 | 4 | 97 | 534 | 280 | 6 |
| 32.1-32.5 | 334 | 185 | 4 | 98 | 534 | 280 | 6 |
| 32.6-33 | 334 | 185 | 4 | 99 | 534 | 280 | 6 |
| 33.1-33.5 | 334 | 185 | 4 | 100 | 534 | 280 | 6 |
| 33.6-34 | 339 | 190 | 4 | | | | |
Sharp drill bit design, made of HSS high-speed steel, easy to drill to the end, saving effort. Special groove geometry, excellent chip removal, prevents blockage and improves drilling quality.
Can be used to process stainless steel, moulded steel, cast iron, aluminium alloys and other metals.
Due to the high hardness of the product, the stability of the equipment is required. It is recommended to be used under table drills, drilling machines, CNC machining centres etc. Please add water or coolant during operation to avoid burning the drill bit at too high a temperature.
QUALITY ASSURANCE ( ISO 9001 )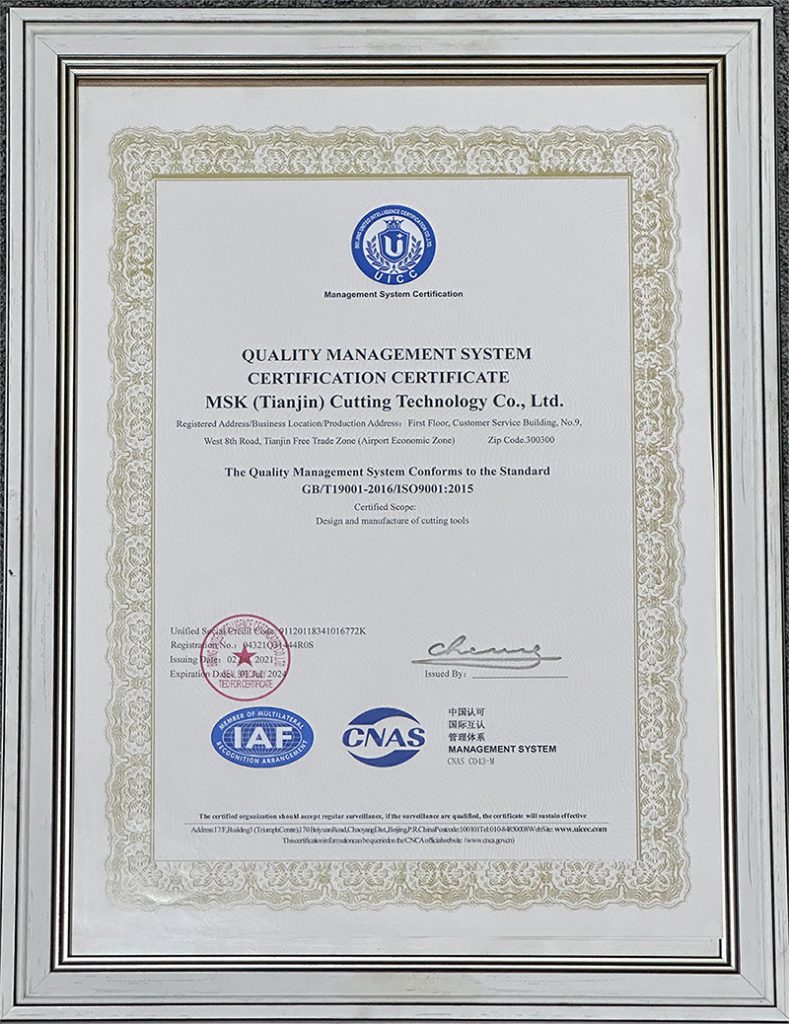 ASK US TO GET 10%OFF
NOW !