Britain Standard Complete Specifications Manual Tap And Die Set External Threads 110PCS Set
1. High-quality high-speed steel alloy has longer service life and higher accuracy
2. Smooth cutting
3. Various specifications
4. High hardness, strong performance, clear thread, sharp and easy to use
Product Name
Britain Standard Complete Specifications Manual Tap And Die Set External Threads 110PCS Set
Brand
MSK
Material
Steel
Coating
uncoated
MOQ
1 Set
Product Packaging
plastic box
Origin
Tianjin
Type
Auto Repair Tools
Delivery Time
15
Color
Silver
Parts included in the kit
Die wringer*2
Tap twister*2
Silk dimension 70 round die *35
T-type tap wrench*1
Tap die configuration (tap die specifications are the same)
Tap*2
Die*1
A total of 70 taps and 35 dies
Metric specifications
M2×0.4, M2×0.4, M3×0.5, M4×0.7, M5×0.8,
M6×0.75, M6×1.0, M7×0.75, M7×1.0, M7×1.0,
M8×0.75, M8×1.0, M8×1.25, M9×0.75, M9×1.0,
M9×1.25, M10×0.75, M10×1.0, M10×1.25, M10×1.5, M11×0.75, M11×1.0, M11×1.25, M11×1.5, M12×0.75, M12×1.0, M12×1.0, M12×1.25, M12×1.5, M12×1.75, M14×1.0, M4×1.25, M14×1.5, M14×2.0, M16×1.0, M16×1.0, M16×1.5, M16×2.0, M18×1.5
Tool Specifications
Die wringer specifications: 25MMO/D 38MMO/D
Tap wringer specifications: M3-M12 M6-M20
T-wrench specification: M6-M8
Packaging Information
Box size: 44cm*33cm*5.5cm Weight: 6.34kg
Features:
1. High-quality high-speed steel alloy has longer service life and higher accuracy
2. Smooth cutting
3. Various specifications
4. High hardness, strong performance, clear thread, sharp and easy to use
Uses: Used for through-hole drilling and tapping of thin stainless steel, soft steel, iron, copper and aluminum.
Advantage:
1. Smoother chip removal and faster cutting efficiency
2. Accurate lock position, convenient operation
3. Grinding thread, sharp and easy to use
We are MSK CNC TOOLS, a manufacturer and wholesaler of CNC Numerical Control Cutting Tools。We have good quality control, excellent product quality and cost-effective price to ensure you have no worry after sale. Choosing us as your partner is your best choice.
Our Tap&Die 110 Piece Set has a high quality construction and durable design that ensures years of use for the user. It is used for repairing cars, factory use, personal DIY use or home use, etc. Our sets are well-matched in terms of specifications and can meet most of your needs. Wide range of uses, not easy to rust, fast tapping speed are also its advantages.
Whether you use it for yourself, for your store, wholesale or retail, choosing our products is the right choice.
Our prices are much cheaper than retail prices on other platforms, and the quality is guaranteed.
The MOQ for this Tap&Die 110 Piece Set is 1 set.
If you are interested, please contact us!
QUALITY ASSURANCE ( ISO 9001 )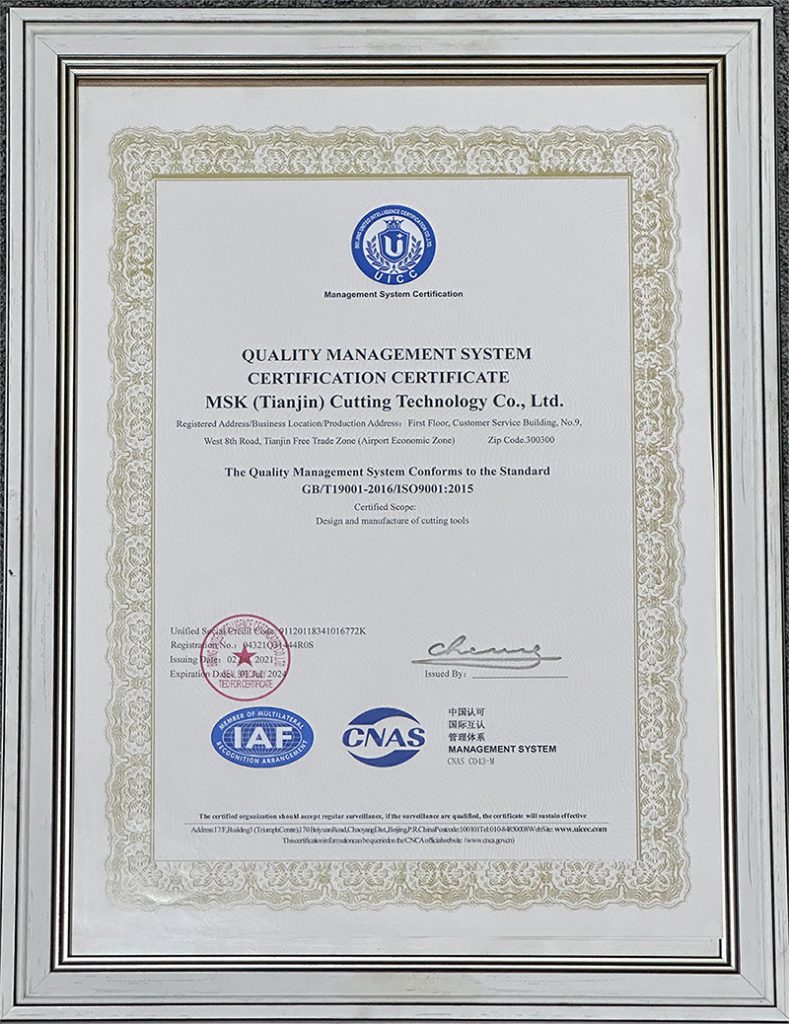 ASK US TO GET 10%OFF
NOW !